Venus in furs
The most famous book linked to fur fetishism is Venus in furs, by Leopold von Sacher-Masoch. It describes the slave-like relation of a Sevarin and his `mistress' Wanda. They sign a contract and one of the stipulations regarding Wanda is that she has to wear a lot of furs. From this book originated the term `masochism'. Sado-masochism is a mix of sadism and masochism; to understand what sacher-masochism is, you have to be Viennese. By the way, not every fur lover or fetishist is masochistic - this is a misunderstanding also created by this very same book.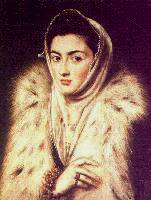 Painting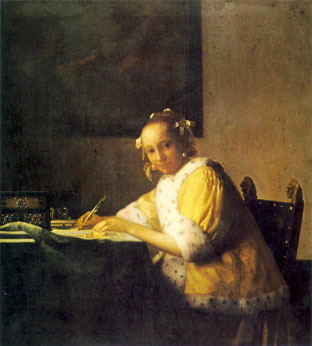 Ermine, ermine and ermine. If that is your favourite, go for royal portraits from the seventeenth century until now - royalty still doesn't hold with abstract portraits. A record fur must have been the wedding cape of empress Marie Louise, Napoleon's wife. I do not have the exact data here, but it was tens of meters long.
A place to go for fur in the arts is 17th Century Dutch painting. In the middle of the century a lot of women wore nice fur lined jackets. A nice example is the work of Johannes Vermeer. However, my personal favourite is a lady's portrait from c. 1577-1580 by El Greco, now in Pollock House, Glasgow. She is wearing lynx, as far as I can tell. The lady is said to be Jeronima de las Cuevas, his common-law wife.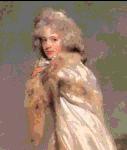 Sir Thomas Lawrence The beautiful picture by Thomas Lawrence to the right (the tumbnail only shows a part of it) was sent to me by a Dutch fur friend. I can not better his own description: `This painting by Sir Thomas Lawrence (1769-1830) of the lady Elizabeth Farren is very dear to me. As an Art Historian and fur lover I have always been interested in the painting of texture and the way this effects the appreciation of the beholder. Lawrence was much admired in his days for his abilities to depict femininity, furs, satins and drapery in general. Facts: Oil on canvas 238,8 x 146,1 cm, 1790; Elizabeth Farren was a famous and beloved actress(1759-1829).'

Sculpture
Sculpture? Anybody thought about sculpture? Well, you could have look at the work of Claes Oldenburg, who makes objects of fake fur: at the Claes Oldenburg, an anthology site, go for the Soft Sculpture page. Even more famous is Meret Oppenheim's Dejeuner with fourrure (Breakfast in fur) from 1936. Be warned, I might not be what you had expected of it...