The Gallery
Soft Spot Fashion Forum
You may remember the picture on my welcome page, of the two Chinese girls in red fox and mink. It was a Saga ad I first saw in a shop window in Vienna. Much later I was able to photograph it in a shop window in Rhodes, Greece; unfortunately after a few years in the fierce Egean sun it was terribly washed out. Anyway, I still like it and after the purchase of a new scanner with slide adapter I was able to share it with you. Compare colours of the original version (unfortunately only available in small size) with the 'Grecian' version... well, white is one of my favourite fur colours too. Of course if anybody who has a original version in reasonable quality can send it to me (perhaps a furrier who could do with some help with scanning some material for his or her own site?), it would be very nice. In fact, as some of you know, I'm a very avid collector of old and new fur fashion pictures, so any old catalogue could make my day.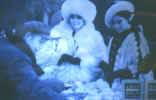 ---
And, as promised, two pictures of G l e n C l o s e the movie 102 D a l m a t i a n s. It's all fake as anything Disney of course, but the idea is nice. You could always show the picture to your local furrier as a basis to work on, so to speak ...
---
And, related to another post in the SSFF, some pictures from the new German movie M a r l e n e, about the life of you know whom. The main role is for Katja Flint, who can have an impressive likeness to the Mother of all Divas. I don't have a picture of her wearing any of the movies extraordinary furs as yet (thanks FK for telling me!), so for now you'll have to with a feather picture from the Blaue Engel period (left), when La Dietrich herself did a meager job in looking like Dietrich. Anyway, don't forget the Soft Spot is about feathers too. The fur picture I do (right) have shows Katharina Müller-Elmau, who plays Dietrich's friend in the movie.
---
A cleaned up version of the YOP4ret.jpg picture of (presumably) E s t e l l e H a l l i d a y, thanks Leo (editing) and TT (positive ID).
Le fiche YOP4ret.jpg, une image qui est (probablement) E s t e l l e H a l l i d a y, merci Leo et TT.

---
Laetitia Casta

---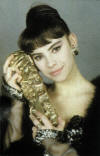 Mathilda May
---

---

---